| | |
| --- | --- |
| Wood roof trusses of various types were used in industrial and commercial buildings constructed from the 1920's through the middle 1950's. SPS Inc. has been involved in the repair and reinforcement of these trusses since it's inception in 1975. | |

The Primary Causes of Truss Failures:
Overload from excessive layers of built-up roofing, or the addition of loads induced by adding roof mounted mechanical equipment, suspended ceilings or other items not included in the original design.
Defects in material or workmanship, which result in failure under long term loading conditions. The lower chords of bowstring trusses (the most common type of truss), are subject to tension failures caused by failures in knots, poor slope of grain, or improperly drilled holes in bolted connections.
Impact from forklifts. This often occurs in warehouse operations where the lower chords are damaged due to the driver's impaired visibility or carelessness.
Exposure to such elements as extreme heat, moisture, or toxic chemicals. Damage to trusses in heat-treating or anodizing plants are very common. Poor ventilation in these types of facilities is a primary cause of failures in wood roof trusses.
Improper original design of some trusses will result in failures. For example, the Summer bell trusses, which utilized a wider upper chord lamination as a ledger for the roof rafters, will have inadequate end distance of the bolts in the tension web members. The bolts will eventually shear out through the end of these tension webs. This condition is especially prevalent in conditions where ceilings are attached to the lower chords.
For The Repair & Reinforcement of Wood Roof Trusses:
Complete physical inspection including photographs of existing conditions, explanation as to cause of the failure, and a written report of recommendation for the specific repairs required.
Emergency, temporary shoring of roof trusses to provide a safe condition for the occupants, as well as to minimize the potential for the damage to increase. This service is available on a 24-hour basis.
SPS will provide complete engineering services with plans and specifications for the required truss repairs. Our experienced staff has developed proven systems and techniques for specific conditions over many years. We are pleased to have our designs reviewed by owners and engineers.
As a licensed general contractor, SPS Inc. provides complete construction services related to roof truss repairs. Our organization is geared to provide prompt, efficient service to our clients. Our experienced professional field personnel are fully trained and equipped with specialized tools and equipment to provide the highest level of skill and craftsmanship required in this specialized type of repair.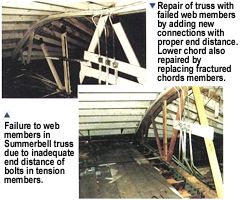 (click to enlarge)
---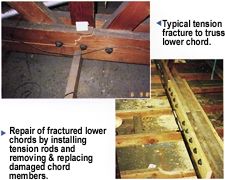 (click to enlarge)

---
Company Profile | Services | Structural Information | Truss Repair/Reinforcement
Glu-Laminated Beam Repair | Concrete Repair/Post Tension | Seismic Retrofit
Home Page | SPS Clients | Contact Us

© SPS Inc. All Rights Reserved